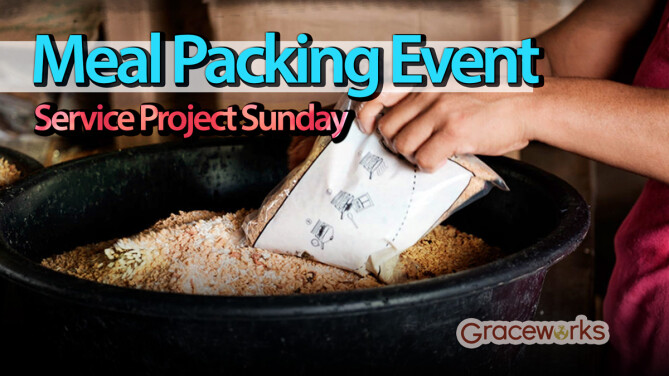 Everyone is invited to SHARE in our food packing service project that supports the vulnerable children of Graceworks who are in desperate need...
Service Project Sunday
Meal Packing Event for Graceworks Kenya
A simple way for our whole church to serve together and make a tangible difference.
Let's do this TOGETHER!
Please join us here in The Courtyard to pack these meals on the Moring of Sunday, September 26. Meals will be shipped to Graceworks in Kenya and will provide necessary food for children facing the real possibility of famine.
Sunday, September 26
In The Courtyard


Shift ONE: 8:30am


Shift TWO: 9:45am


Shift THREE: 11:00am
(or anytime after the 10:30am services)
The Backstory
Lack of rain has produced a very poor harvest in Kenya this year and probability of famine is high. In response, St. John's will be packing and sending 135,000 meals to GRACEWORKS KENYA, who we have partnered with for yeas as they support the vulnerable children in Kenya. Please carve out some time on Sunday morning, September 26. We are looking forward to serving with you! You can use the link above register for a time slot.
THE MEALS
Primary ingredient: RED LENTILS, serves as a superior source of protein
PhytoBlend, a combination of 24 essential vitamins, minerals and phytonutrients delivers much needed micronutrients — filling a major dietary deficit often found in situations of food insecurity
Dehydrated vegetable blend adds additional nutrients and fiber, along with color, texture, and flavor
Fortified white rice further provides critical calories to children
Questions?
Contact: Jessica Holt
714-288-4458