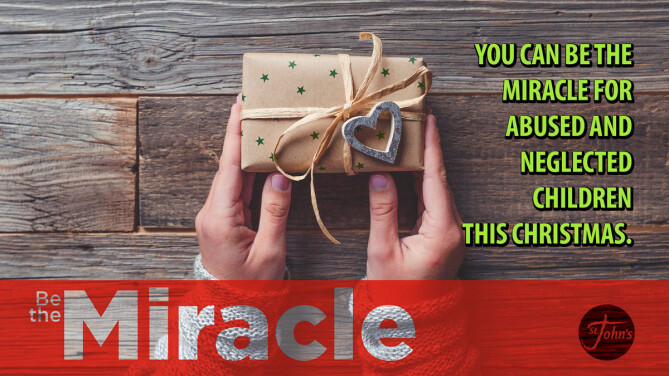 This is your opportunity to WRAP AROUND vulnerable children in our area and their families by purchasing a specific gift from the registry and/or by donating a $25 gift card to the child's family.
You Can Be the Miracle for Abused and Neglected Children this Christmas.


WRAP-AROUND PROGRAM - CHRISTMAS 2020
For Christmas this year,
St. John's is supporting vulnerable children in our local area. We've partnered with Olive Crest and committed to blessing 100 children. We will be fulfilling Christmas wishes by purchasing the gifts that the children have asked for! This is your opportunity to wrap around these children and their families by purchasing a specific gift from the registry. If you'd like to do more, consider giving a $25 gift card that will go to the family.
Help us make a tangible, PERSONAL difference in the lives of these children this Christmas!
The video above includes details and instructions.
PURCHASE A GIFT OR A GIFT CARD
When you click the TARGET LINK below you'll be see the corresponding gifts that can be purchased and SHIPPED DIRECTLY to Olive Crest. (You can choose to do a socially distanced gift drop off if you prefer -- please coordinating with us ahead of time. ) FOR SHIPPING CHOOSE: "Shipping to the address on Tawny & Olive Crest and St. John's birthday registry"
DEADLINE is November 20
Questions?
Contact Pastor Trevor
714-288-4400

There's More In DECEMBER
In December, we will ask for a few volunteers to come to Olive Crest to meet the staff, enjoy some time together, and wrap the very gifts you purchased. Then, the following week we will have a drive thru distribution event that we invite you to come be a part of where we will distribute the gifts to the children you have sponsored!
St. John's Ministry to Vulnerable Children