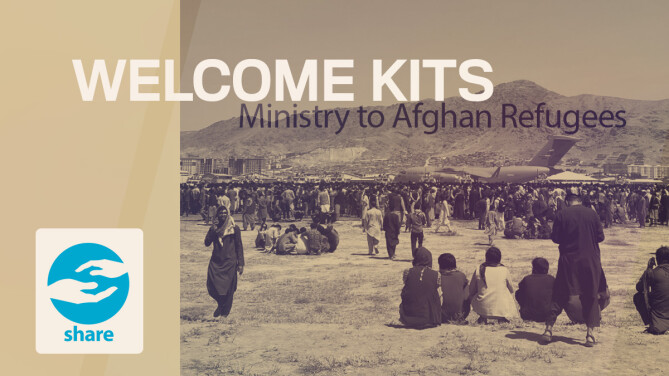 At our Thanksgiving Services...
We are encouraging worshipers to make a Good Samaritan Welcome Kit that will be distributed to Afghan Refugees through our partner World Relief – and bring it to either of our Thanksgiving worship services. An expected 70,000 refugees from Afghanistan are arriving in the United States. Here is how you can help families resettle:
Good Samaritan Welcome Kits
All items must be new and unopened.
Remember to package a kit in a container.
Label your kit as one of these types:
kitchen, bedroom, cleaning supplies, toiletries, or food (gift cards only).
please make one of these kit types:


Toiletries
Container idea: shower caddy
-toilet paper
-shampoo
-soap (4)
-toothbrush (4)
-toothpaste

Food
Container idea: Envelope with encouraging note
-Giftcards – Visa / Mastercard
For families to purchase culturally appropriate food.

Child's Art Kit
Container idea: a backpack
-coloring book
-crayons, color pencils or markers
-toys – stuffed animals, legos, puzzles, etc.
-blanket

Kitchen Items
Container idea: woven basket
-one place setting of tableware (fork, knife, spoon)
-one place setting for dishes (plate, bowl, cup, or glass)
-pots and pans
-mixing/ serving bowels
-one set of kitchen utensils (such as a spatula, wooden spoon, knife, serving utensils, etc.)
-can opener

Linens / Household Items
Container idea: woven basket or laundry basket
-4 towels
-1 set of sheets (twin or full)
-blankets (twin or full)
-2 pillowcases
-2 pillows

Cleaning Supplies
Container idea: laundry basket
-dish soap
-bathroom and kitchen cleaner
-sponges or cleaning rags and /or paper towels
-laundry detergent
-wastebaskets
-mop or broom
-trash bags
'Truly I tell you, whatever you did for one of the least of these brothers and sisters of mine, you did for me.'
Matthew 25:40
Questions? Please Contact
Marianne Mote
or
Jessica Holt