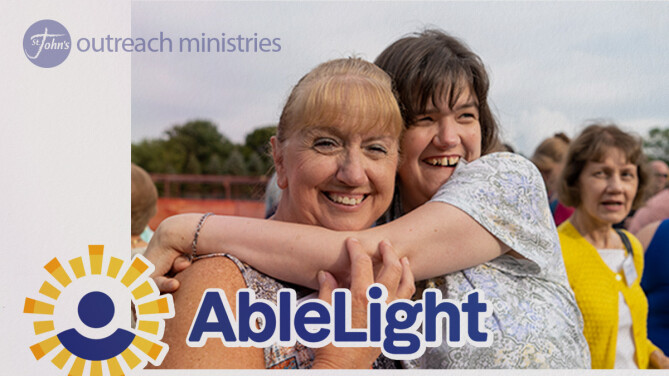 Help to provide monthly Bible studies and special events for the adults with developmental disabilities supported by AbleLight (formerly Bethesda Lutheran Communities and Good Shepherd Lutheran Communities). We currently support nine group homes...
AbleLight
Ministry to Adults with Developmental Disabilities
Join our Team
that helps to to provide monthly Bible studies and special events for adults with developmental disabilities who are supported by AbleLight (formerly Bethesda Lutheran Communities and Good Shepherd Lutheran Communities).
We currently support nine group homes with a total of around 50 residents. The adults we fellowship with experience a wide range of intellectual and/or developmental disabilities while still sharing their huge hearts for the Lord. We celebrate the gifts and talents that make each individual unique, knowing we are each "fearfully and wonderfully made" (Psalm 139). This is a local mission ministry. You can participate as an individual, group, or even a whole family can participate together!


Monthly Bible Study
First Monday of every month (moved to 2nd when a holiday occurs)
We meet at St. John's in the Garage at 6:15 to carpool down to south Orange County. Our time together consists of time to visit, sing songs (Jesus Loves Me, This Little Light of Mine, etc.), share a short devotion, complete a craft, and enjoy a light snack. Volunteers young, old, or anywhere in between are welcome to join us! Please RSVP to Emily to let her know you are coming.


September 11, 2023
October 2, 2023
November 13, 2023
December 4, 2023
January 8, 2024
Bethesda Summer Bible Program
Every summer
We host a week long, VBS style "camp" program in the evenings for one week in the summer. Our program supports over 50 adults with developmental disabilities and brings the love of Jesus to everyone involved with the fun of camp. Our programming is specifically tailored to be age appropriate for the adults we support while also capitalizing on the fun and silliness of camp for all involved. Similar to our monthly Bible study, we will visit, sing, go through a short devotion or lesson, complete a craft, and share a light snack. Program typically runs from 5:00-7:30 in the evening. In the past, we have hosted our program at Lutheran Church of the Cross and partially at St. John's. Volunteers are asked to attend a short training/info session the Sunday before camp begins and to commit to as much of the week as possible.


Dances, Parties, and Special Events
Intermittently held in partnership with other ministries at St. John's
John's has hosted a variety of events from worship nights to dances for the people we support at AbleLight. These events and projects can range from pizza and an evening church service to Christmas karaoke parties or a western themed dance. We recently had St. John's Friendship Quilters donate adult clothing protectors and quilts for many of our residents as a special event that matched went along with monthly Bible study theme.


Christmas Caroling December 10th!
Each December
Join us Sunday, December 10, 2023 to share spread some Christmas cheer! We carpool to 9 group homes in south Orange County to sing a handful of classic Christmas carols and visit with the people we support. No singing experience necessary! We welcome carolers of all ages. We will meet at St. John's at 12PM to handout driving directions and pray before departing.
If you are unable to join us for caroling, please consider writing and sending along some Christmas cards to be delivered during our caroling event! We ask for sets of 9 cards from your family or group sharing Christmas cheer with our dear friends. Cards can be addressed to "AbleLight" or specific home/resident names. Please reach out to Emily with any questions or to RSVP.


If you or your groups are interested in hosting or helping to plan one of these events, please reach out to Jessica Holt or Emily Remsen to start the planning process.
I praise you because I am fearfully and wonderfully made; your works are wonderful, I know that full well.
Psalm 139:14
Questions? Please Contact:
Jessica Holt OR Emily Remsen
714-288-4458