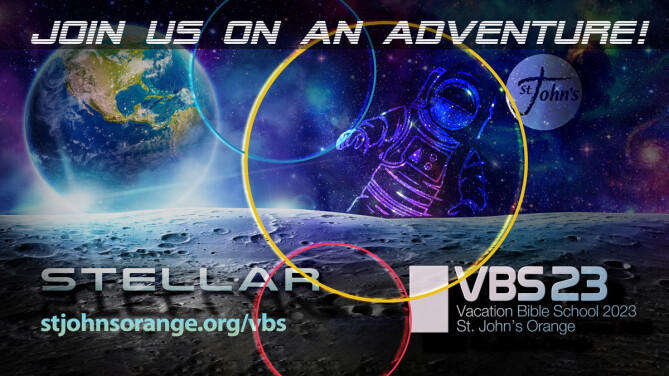 Close to 300 volunteers make up the St. John's VBS Team! Adult & Youth Volunteers are needed...
STELLAR VBS
June 19-23, 2023
9am to 12:15pm
Vacation Bible School is an "All Hands on Deck" type of event at St. John's. If you're available the week of June 19-23, 2023, please consider serving with your church family at VBS.

STELLAR VBS will launch kids on a cosmic quest -- learning how to shine the light of Jesus to a dark word. Be on the TEAM that builds this out-of-this-world adventure filled with light years of faith-building fun. We'll help Jesus' light shine in and through the heart of every child at VBS 2023.
Adult Volunteers: Must be at least 18 years old.
Youth Volunteers: Must be going into 7th grade in Fall 2023 and at least 11 years old to 17 years old.
There are many different ways to help:
Classroom Leader
Group Leader (6th Grade)'
Group Assistant (Youth)
Snacks Helpers
Games Station Leaders
Crafts Station Leaders
Crossing Guard & Security Team
and more...
ONLINE Volunteer Registration
Questions? Contact:
IRMA BATES | 714-288-4490