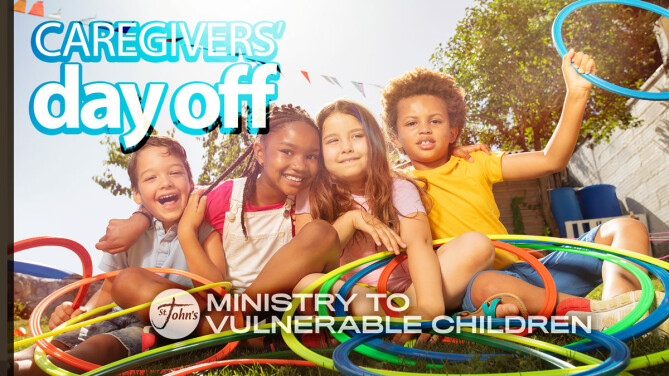 Volunteers interact with kids ranging in age from babies to 17 years of age -- their caregivers get a much needed break.
Caregivers' Day Off TEAM MEMBER
St John's in partnership with Olive Crest and Social services offers from 10am-2pm a fun filled day for the children of all RFA and kinship families in Orange County. Caregivers drop off their children and receive a well-deserved break for four hours.
Volunteers interact with kids (ranging in age from babies to 17 years of age) in age appropriate games, crafts, food and fun activities. We give the children one-on-one attention and have a wonderful time building relationships.
The Caregiver's Day Off events are held on St. John's large playground area (adjacent to Senne Field) and always include a fun theme for the day.
Lunch, snacks, and water is provided for the children and all volunteers.
Questions?
Contact Jessica
714-288-4458
Volunteer RSVP & Registration is Required
Since we are volunteering with children, volunteer registration is required.

Caregivers Register to Attend:
RFA and Kinship Families, please use the link below to RSVP and join us at Caregivers' Day Off.
2023 SCHEDULE
Saturday, Jan. 21 - 10am to 2pm
Saturday, Feb. 18 - 10am to 2pm
Saturday, Mar. 18 - 10am to 2pm
EASTER EVENT
-April 8, Family Easter Egg Hunt
Saturday, May 20 - 10am to 2pm
Saturday, Jun. 17 - 10am to 2pm
Saturday, Jul. 15 - 10am to 2pm
Saturday, Aug. 19 - 10am to 2pm
Saturday, Sept. 16 - 10am to 2pm
Saturday, Oct. 21 - 10am to 2pm
Saturday, Nov. 18 - 10am to 2pm
Holiday Extravaganza - December 2, 2023, 3pm-7pm